Operationalizing your Modern Data Estate
At Fyrsoft (sister company of CodeSmart), our Major Domo Approach involves creating a platform that enables strategic decision making based on data intelligence. The only way to truly achieve strategic data intelligence is to take a comprehensive and holistic approach to data governance, accuracy, discoverability, security, and data science. The leader who leads this critical task, aka the Major Domo, stewards the data generated by the entire workforce and ecosystem. She must bring together the data streams from not only the segmented sources that drove traditional business intelligence over the last decade, but now integrate the data available from the entire inter-corporate ecosystem. This entails creating a comprehensive API focused strategy that takes all the data from the corporate data streams within the legacy digital systems and combining it with the data streams made available by customers, suppliers, competitors, and other critical components of the entire corporate ecosystem. To truly make data backed decisions, the Major Domo must add the critical metadata that gives insights into all levels of behavior and usage patterns from both inside and outside the company.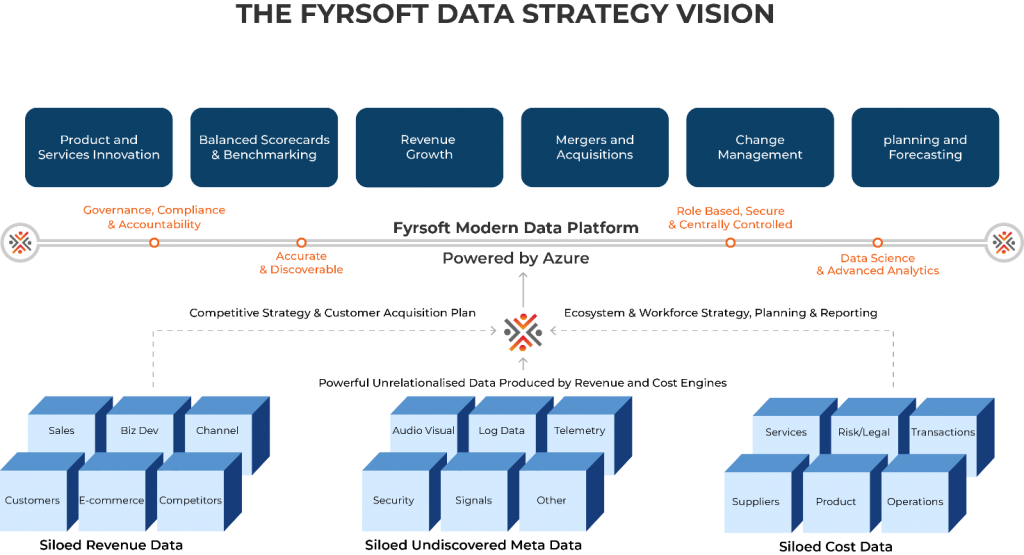 This approach ensures that there are data policies in place that enable the efforts of all the critical leaders that steer corporate strategy.  Segmented system owners are held accountable for the accuracy and timely availability of the data. Security and role-based control is centralized by the CISO's and Risk Officer's teams. The Chief Data Scientist's and CFO's office has the critical information to apply the data science and analytics necessary to deliver the KPIs critical to the transformation being driven by the CDO and CMO to deliver revenue growth. The core value: the senior management team must now leverage technology as a differentiator, and not just an enabler. The data will enable decisions that lead to innovation, formalize adherence to more granular, quantified, and detailed balance scorecards and competitive benchmarks.  The data will guide decisions that affect all areas of corporate development, from mergers and acquisitions, to change management.
At Fyrsoft, our core approach to data is rooted in our history.  We got our start in the HR data ecosystem from right here in Houston. Our distinguishing factor is the quality of our engineering. For us, this starts and ends with the quality of our engineers, i.e., our people.
Fyrsoft Goal with Data & AI and Microsoft:

Successful Customer Engagements
Strategic Solution Offerings
• General Motors – Infotainment System Analytics
• Microsoft – Azure Utilization Insights
• AccuWeather – Azure Data Lake
• Expedia Recommendation System
• Bermuda Monetary Authority
•Yukon State Investment Board
• The Fyrsoft Data Platform
• Sales Enablement Analytics
• Weyerhaeuser – Solving Migration Problem to Azure SQL DW
• Human Machine Interface (HMI) Data Management & Analytics
• Talent Data Management Analytics
• Intelligent Cloud Suite
• Azure-ML Powered Chat Bots
• SQL Server Migration to Azure DW Utilities
Customer Success Solution Map Aligned to the Microsoft Data and AI Solution Area:Intelligent Cloud: 

1. Azure Apache Spark on HDInsight – Fyrsoft partnered with Microsoft's Azure Intelligence Platform team to design and develop an Apache Spark based solution that could handle Azure utilization data. The system processes over 32 Terabytes of new information daily along with the processing of over 2 Petabytes of historical data daily, is cloud-native and fully automated and is designed to be self-healing.  The solution:
a. Reduced the time lag from 3 days to 4 hours for delivery of key uilization data to Microsoft's best Enterprise Customers
b. Delivered undiscovered customer usage patterns
c. Helped sales teams generate customized sales propositions to Enterprise Customers that utilize excess capacity with Azure regions worldwide
d. Generated recommendations to SMB customers including discount offers that take advantage of Azure utilization valleys
2. Azure Data Lake – AccuWeather wanted to build a central data repository from multiple data sources (ex: Websites, Google Analytics, Google BigQuery, Ooyla Videos, Weather API) and present the data using PowerBI for dashboard reporting, automated reporting & Data analytics
a. The Azure Data Lake Fyrsoft built is capable of bringing data from Batch, Near Real Time (NRT) and Real Time (RT) data sources
b. The Azure Data Lake for AccuWeather is designed and developed to store all structured and unstructured data in a single centralized data platform to allow Data Scientists to build AI models
c. Fyrsoft helped customer to define the scope by providing Discovery sessions and POC projects
3. Azure Data Factory + Azure Data Lake + Azure SQL DB + PowerBI – Yukon's State Investment Board's chose Fyrsoft to design and develop a cloud native solution that could handle a full stack Data and a Business Intelligence solution. The new system replaced a full stack legacy LOB application. Fyrsoft is building a full stack solution on Azure that accomplishes the following:
a. A benchmark application for Investment Key stakeholders
b. Leveraging Azure Active Directory for secured authentication all SIB applications
c. Replacing a high-cost legacy application with a reliable solution built on Azure
4. Azure ML Studio – The Bermuda Monetary Authority receives thousands of documents, from financial institutions ​operating in the jurisdiction and assess risk for financial regulations of each institutions. Due to the shortage of time and continuous business engagements, this becomes impractical to go through them manually at a given time. The BMA needed a system that could read thousands of pages of annual business / financial documents and pull out key statistics that can be used to supervise the risk-based financial regulations that it applies to Bermuda's financial institutions.
a. Ran Azure ML Studio and Power BI on top of blob storage and Azure SQL
b. Extractive (Natural Language Processing) and Abstractive (Deep Learning) Techniques implemented on Texts and computer vision leveraging TensorFlow, Keras, and OpenCV in Azure.
c. Object detection framework, using state-of-the-art Image Processing methodologies, extracts the Images and Tables automatically
d. BMA's Risk Assessment effort is reduced by 85% from 2 days to 3 hours per institution
e. Efficiency of risk assessment increased by approximately 12% because of reduced manual errors

About Author:
Faizeen Khandaker is a Managing Principal, Digital Strategy and Data Services for People Tech Group. He is ROI-driven technology leader with entrepreneurial expertise in the business strategy, execution, and revenue generation required to innovate and implement disruptive solutions for corporations that require disruptive digital transformation.
You can connect with him on LinkedIn.